Folkestone vigil for Nepalese earthquake victims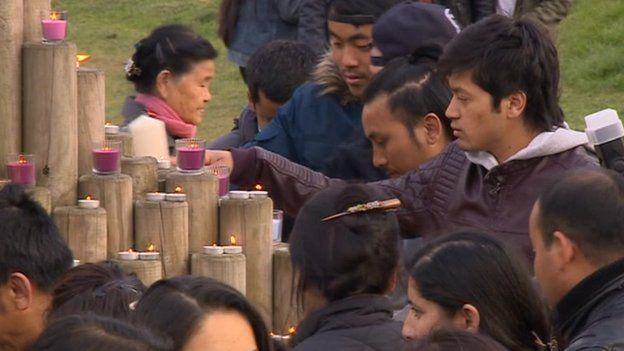 Hundreds of people from the Nepalese community in Kent have gathered for a vigil to remember those who died in Saturday's earthquake.
Candles were lit and flowers laid on a wooden model of Mount Everest at the vigil in Cheriton, north Folkestone, on Monday night.
Soldiers from the Royal Gurkha Rifles, based at the town's Shorncliffe Barracks, played the Last Post.
Vigil organisers said it was important to remember people in their homeland.
Former Gurkha Bryan Magar said members of his cousin's family were among those missing in Nepal, but others at the vigil said they had heard their relatives were safe.
Deputy head of Cheriton Primary School, Richard Evans, said some pupils had relatives in Nepal they may never see again.
"That has been very tough for them to come to terms with and I'm not sure it has really sunk in for them yet," he said.
A spokesman from the barracks said they would be a very effective part of the rescue effort because of their language skills and knowledge of the country.
The Ministry of Defence said more Gurkhas from Maidstone were expected to fly to Nepal to help with aid relief efforts.
The Gurkha Peace Foundation, based in Ashford, began collecting money to help the earthquake victims in Canterbury on Monday.
"We will be working with other organisations but every penny we collect will go direct to Nepal, where it will be monitored wherever the greatest need is," said chairman Brian Staley.
Related Internet Links
The BBC is not responsible for the content of external sites.