Duchess of Cambridge visits Margate's Turner Contemporary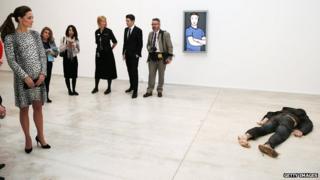 The Duchess of Cambridge has viewed a collection of modern art, including a "dead body" self portrait, during a visit to a seaside gallery.
Hundreds of people cheered and waved flags as Catherine, who is expecting her second child next month, arrived at the Turner Contemporary in Margate.
The duchess viewed the Self: Image and Identity exhibition at the seafront gallery, which opened in 2011.
Among the avant-garde works shown to the duchess were Self Portrait as a Drowned Man, by Jeremy Millar, depicting the artist laid face-down on the floor.
Exhibits shown to the duchess included a photograph of a naked Tracey Emin kneeling on a wooden floor, along with a piece by Gilbert and George, featuring the pair in a naked full-frontal pose.
The exhibition also houses the last self-portrait by Sir Anthony Van Dyck, acquired by the National Portrait Gallery, of which the duchess is a patron.
On a tour of the gallery, Catherine met artists whose works are in the exhibition, along with local school children who are involved in an art project.
She also spoke to a group of young women who have been working with local artist Felicity Allen.
The duchess then met staff and supporters of the gallery before going on to an exhibition at the Resort Studios in Cliftonville.
She last visited Kent in June 2012 when she joined children from inner-city backgrounds at an outdoor residential course in Wrotham.