IPCC investigates Hersden man's shooting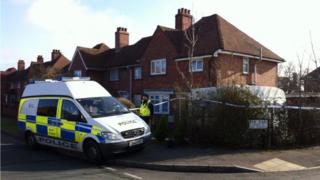 The Independent Police Complaints Commission (IPCC) is to investigate the shooting of a man by Kent Police, leaving him critically injured.
Marc Traylor, 40, was shot by officers at about 01:00 GMT on 9 February, hours after his 16-year-old daughter was found with stab wounds at a house in Hersden, near Canterbury.
He remains in hospital in a critical condition.
A police handgun, two Tasers and a baton launcher are being tested.
The IPCC said the address had been examined by an independent ballistics expert.
A spokesman said: "The firearms officers have provided accounts to the IPCC and are being treated as significant witnesses."
Mary Cunneen, IPCC commissioner, said: "Where someone is shot by the police it is right that it is subject to rigorous independent scrutiny.
"We have made good progress recovering evidence that will help provide an understanding of what happened."
Kent Police are continuing their investigation into an attempted murder.
The 16-year-old girl is recovering in hospital.