Rare African wild dogs make public debut at Port Lympne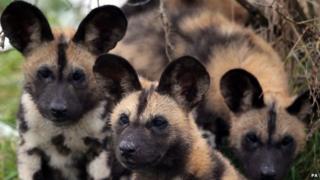 Twenty five endangered African wild dog puppies have made their first public appearance at a Kent wildlife park.
The dogs, which are usually found in southern Africa, were born in three litters at Port Lympne Reserve, near Ashford, in November and December.
Their arrival takes the number of African wild dogs at the park to 43, split between five packs.
There are as few as 3,000 left in the wild, according to experts at Port Lympne.
The park's animal director, Adrian Harland, said: "We're delighted with the litters. All the pups are really strong and healthy.
"They are out and about exploring their surroundings and playing every day.
"They're all very curious so visitors should easily be able to see them."
African wild dogs, also known as African painted dogs, are an endangered species. They are the size of medium domestic dogs and hunt in packs.
"These impressive and beautiful dogs are endangered in the wild. Our breeding programmes with these unique animals will help to ensure the species survives into the future," said Mr Harland.