Channel Tunnel delays to continue 'for two more days'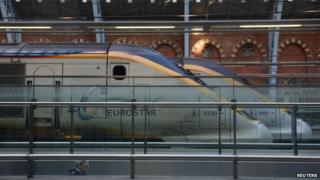 Eurotunnel, which transports vehicles and freight through the Channel Tunnel, has warned of two more days of disruption because of power problems.
Services were delayed by up to five hours on Wednesday. Eurostar passengers were also held up by about an hour.
Phase two of Operation Stack to queue lorries on the M20 southbound is also expected to be in force until Thursday.
Kent Police has urged motorists travelling towards Folkestone and Dover to allow extra time for their journey.
"They [the tunnels] will be fully operational when everything is safe to reopen," said Eurotunnel spokesman John Keefe.
"At the moment we're not putting a time to that. It will be some time this week but we've got to wait and see how long it takes."
When he was whether that meant at least two more days of delays, he added: "I think that would be safe to say.
"We are looking to make sure this is done once and done properly so that we get back to full safe operations."
Non-freight traffic is currently being diverted onto the A20 from junction eight for Hollingbourne and rejoining the motorway at junction nine for Ashford West.
'Power supply issue'
Lorry drivers who used diversions to try to get closer to the front, and who did not have a ticket, would be sent to the back of the queue, Kent Police said.
The problems come just days after thousands of passengers were left stranded by a lorry fire on a train in the tunnel on Saturday.
A day later, power supply problems led to the cancellation of 11 trains.
Earlier on Wednesday a Eurotunnel spokesman said: "As we were conducting the re-establishment of services early this morning, we encountered a power supply line issue.
"Our maintenance teams have gone out to inspect this. The tunnel is open but we are running a reduced service in the meantime."
The Port of Dover said there were no delays on cross-Channel ferry services, although freight traffic was queuing on its approach roads.