Medway Queen: Plea for Dunkirk anniversary event funds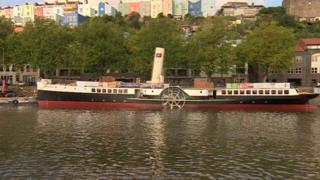 Campaigners are hoping to raise enough funds to enable an historic paddle steamer to appear at the 75th anniversary of the Dunkirk evacuation.
The Medway Queen was among the "little ships" that helped rescue soldiers from northern France during World War Two.
Up to £4m is needed to fully restore the craft but "the money has run out".
The Medway Queen Preservation Society said it would take £10,000 to "make her presentable" and tow her to Ramsgate for the event in May.
Chairman Bill Burton said: "It's important that we do try and get there because it's probably the last one any veterans will still be around."
The vessel returned to Gillingham in November 2013 after exterior restoration work was carried out in Bristol but "unfortunately not a lot" has happened since because of funding issues, according to the society.
Admiral Lord West, former Head of the Royal Navy and a patron of the paddle steamer said the ship had "a special place in the nation's heart".
"She was a key part of the withdrawal from Dunkirk. Apart from the [Navy destroyers] she actually did more than anybody else.
"Seven thousand of our soldiers were got to safety because of this ship and that is something that is very special."
About 338,000 troops were evacuated from Dunkirk's beaches at the end of May and beginning of June 1940.
A series of events will be held in Ramsgate in May to mark 75 years since the evacuation, including a flotilla to Dunkirk.