Manston Airport compulsory purchase rejection called in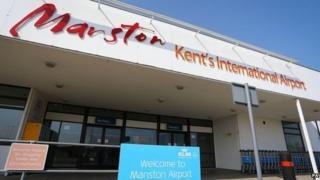 The decision not to go ahead with the compulsory purchase of Manston Airport, which closed last May, has been called back for review.
Thanet District Council's cabinet decided on 11 December not to impose a compulsory purchase order (CPO), against the wishes of campaigners.
The decision has been "called in" by the overview and scrutiny panel which will consider it on 13 January.
The panel will look at whether the cabinet followed the proper procedures.
Bought by developers
It will also consider whether the report on which the cabinet based its decision contained sufficient details and evidence.
Manston was sold to developers in September whose £1bn plan will see the site used for manufacturing, housing and schools.
Trevor Cartner and Chris Musgrave, part of the consortium behind Discovery Park in Sandwich, bought a majority stake for an undisclosed fee.
The airport was closed in May 2014 by Ann Gloag, co-founder of the Stagecoach Group, who bought it for £1 the previous October.
Local campaigners have held a series of protests aimed at saving Manston as an international airport