Bradley Arthur: Search continues for missing father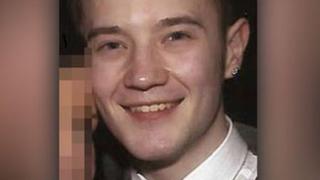 The search for a man missing since the early hours of New Year's Day has continued for a fourth day.
Bradley Arthur, 24, who became a father for the first time four months ago, is believed to have left a house in Grove Road, Grays, at 03:30 GMT on Thursday.
Since then police, his family and friends have been searching Grays and his home area of Chafford Hundred.
No sightings of the maintenance worker have been confirmed and his mobile phone remains unanswered, police said.
His ex-partner Chelsea Christie, who keeps in touch with Mr Arthur's immediate family, said they were distraught.
"It is totally out of character for him to disappear like this.
"No-one has any idea what happened but he will probably be wearing the same clothes," she said.
Police described Mr Arthur as about 6ft (1.83m) tall and very thin with mousey brown hair and stubble. He was last seen wearing dark blue jeans, a white shirt and grey blazer.
Neighbour Cathy Tainai, 24, described him as a lovely, friendly, caring man who was always "up for a laugh".
She said he had spent New Year's Eve with friends at Orsett Hall and had gone on to Grove Road to stay with a friend.
His great uncle Ian Giles said when he first heard of the disappearance he thought it was a joke because it was so out of character.
"Businesses are back at work and I would urge them to check outbuildings, premises, anywhere that he might be," he said.
Insp Alan Blakesley said: "There are lots of alleyways, sheds, outbuildings and garages in this area and we need to check all of them as soon as possible.
"If Bradley is lying injured somewhere then the sooner we can find him the better."