Maidstone missing man Patrick Lamb's girlfriend in plea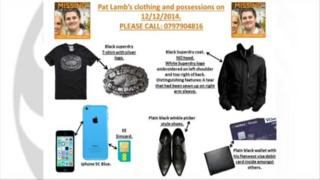 The girlfriend of a man from Kent, missing for more than a week, has urged police to do more to find him.
Patrick Lamb, 28, has not been seen since a night out in Maidstone's Bar Chocolate on Friday 12 December.
A search of the River Medway by police divers has revealed nothing.
Natasha Morgan, Mr Lamb's girlfriend, said: "I hope that he's not dead. I'm still going to search every day... I'll search until I find him and I'm not going to give up."
The last confirmed sighting of Mr Lamb, who lives with his girlfriend in Greenhithe, was on CCTV in Pudding Lane just after midnight.
Police have been looking at other CCTV images, but Ms Morgan has questioned why there were no more sightings of him.
"There's a certain time he went missing. Surely you can spot him from that time - there's so many cameras around the city," she said.
"I know they [the police] said some are poor quality but you must see him somewhere... to me, they're just being slow."
Kent Police said they were continuing to review a vast amount of CCTV.
"That remains one of the main priorities for the inquiry," said Insp Colin Whitfield.
"We've conducted searches on both sides of the river and indeed in the river itself.
"Searches are finished for the time being until we get any intelligence that comes in to focus in a different direction."