Kent Police fracking debate meeting list request criticised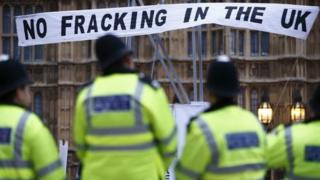 Kent Police has been criticised for asking a university to hand over a list of people due to attend a debate about fracking.
Canterbury Christ Church University, which hosted the forum on 19 November, refused the request.
Panellist and Green Party councillor Ian Driver said it was an "abuse of powers" and has demanded an apology.
Kent Police said it needed to assess the "threat and risk" for significant events to maintain public safety.
The "Free public debate on fracking in the UK" event was hosted by the university's School of Psychology, Politics and Sociology and attended by about 200 people.
'No right to know'
Canterbury Christ Church University said it "did not feel it was appropriate" to provide the information Kent Police had requested.
Shale gas is promoted by the government as an important potential energy source, but its method of extraction has sparked opposition from environmental groups.
Mr Driver and fellow Green Party parliamentary candidate Stuart Jeffery have written an open letter of complaint to Ann Barnes, Kent's Police and Crime Commissioner, and Alan Pughsley, chief constable of Kent Police.
It states: "I believe that your request is an abuse of your powers and I seek your formal apology and assurance that steps will be taken to ensure that this does not recur.
"While I, as a public figure, am personally happy for others to know of my attendance at the debate, there will be many in the audience who do not wish you to have their details - details that you have no right to know."
The letter also asks the force a number of questions, including the legislation the request was made under and how much priority it puts on this type of "intelligence gathering".
In a statement, the force said: "Kent Police assesses the threat and risk for significant public events in the county to allow it to maintain public safety and appropriately allocate resources.
"This assessment includes engaging and working with event organisers.
"However, Kent Police did not obtain a list of people who had expressed an interest in attending."
Ann Barnes said she had asked Kent Police to gather all the "necessary information about the actions taken" ahead of a meeting with Alan Pughsley on Wednesday.
"This is an important matter and during my meeting with the chief constable I shall be seeking clarity about the approach that Kent Police took towards this meeting in Canterbury and that which it is reported to have taken."
---
Hydraulic fracturing, or fracking, is a technique designed to recover gas and oil from shale rock.
The process involves drilling into the earth and then directing a high-pressure water mixture, including sand and chemicals, at the rock to release the gas inside.
It allows firms to access difficult-to-reach resources of oil and gas and has driven down prices by up to 40% in the US.
The energy industry suggests shale gas fracking could make an important contribution to the UK's future energy needs.
Environmental groups are concerned about the large amounts of water needed during the process and fear the potentially carcinogenic chemicals used may escape and contaminate groundwater.
Such pollution incidents are the results of bad practice rather than anything inherently risky about the extraction technique, according to the industry.
Opponents also say fracking distracts firms and governments from investing in renewable forms of energy.
Read more about the fracking process
---
More than 1,000 protesters from around the country gathered at Balcombe in West Sussex in 2013 amid fears Cuadrilla's test drilling for oil would lead to hydraulic fracturing - a method of extracting gas or oil from shale rock, known as fracking.
Plans for further oil and gas exploration were approved earlier this year.
Cuadrilla said it would not frack for oil at the site, but it still wanted to test oil supply suitability using a method called flow-testing.