Kent County Council to 'underwrite' flood defence costs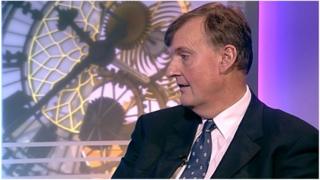 The leader of Kent County Council has said a "flood forum" will raise the £17m needed for flood defences in Tonbridge and Yalding.
Paul Carter also said the authority would under-write the costs after the government agreed to pay the other half of the £35m needed.
However, he would not say whether council tax would have to rise to pay for the cost.
He had been accused of "backtracking" on a promise to find the money.
More than 200 homes were flooded in the Yalding and Tonbridge area a year ago over Christmas and the new year.
'Narrow the gap'
Speaking on the BBC's Politics Show earlier, the Conservative politician said: "I've always been consistent that we need help from our friends in local government.
"We'll underwrite it, but we're forming a flood-funding forum with our friends in local government - parish councils are involved in that - in looking at how we can locally help to narrow the gap that will be placed upon the council tax payers of Kent. Because we can't just find £17m overnight."
The money will pay for the height of the Leigh Barrier to be raised and the creation of a flood-storage area.
At the beginning of December Mr Carter was accused of "backtracking" by Liberal Democrat prospective parliamentary candidate for Maidstone and Weald, Jasper Gerard.
He urged him to "come up with the money [he] guaranteed".
And Maidstone's Conservative MP, Helen Grant, said Kent County Council "gave a clear commitment to find 50% of the implementation costs for both proposed flood defence schemes".
"I remain confident that they will honour this commitment," she said.