Thanet Council's Manston Airport purchase report 'unfair'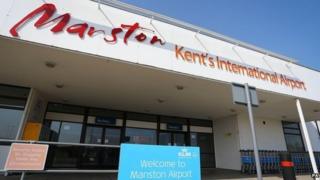 A US firm interested in buying Manston Airport has said it is disappointed a compulsory purchase could be dropped.
Thanet District Council is to consider a report this week which recommends no further action be taken on the site.
Stephen DeNardo, RiverOak Investments' chief executive, said: "We do not think that it was a fair analysis of the information that we presented them."
Thanet District Council said it was dismayed "to see such an inflammatory and inaccurate response".
The East Kent airport closed in May and was sold four months later to regeneration specialists, who plan to redevelop it for business and housing.
Mr DeNardo said RiverOak was committed to getting the airport reopened.
"This is all about jobs. It's about the economy of Kent," he said.
'Financial backing'
The recommendation to the council's cabinet says no further action should be taken at the present time on a CPO on the basis the council "has not identified any suitable expressions of interest... and that it does not have the financial resources to pursue a CPO in its own right".
But Mr DeNardo said his firm had provided the council with the information saying it had the financial backing for a compulsory purchase.
"We have the money and we've offered the indemnity to the council so that they are at no risk during the CPO process.
"I think it's been made clear to everyone that the rules weren't followed, the information wasn't taken at face value, and that we deserve the opportunity to go forward on the CPO process."
'Appropriate assurances'
In a statement Thanet District Council said it had "spent a considerable amount of time" talking to RiverOak and doing all it could "to assist them in providing the relevant information required".
"It would be totally unacceptable for the council to agree an indemnity partner which failed to provide the appropriate assurances," it said.
"There also appears to be some misunderstanding around the purpose of the report which is reporting back on the outcome of the soft-market testing exercise and not debating the wider issues of a CPO."
The report will be presented to the council on Thursday.