Dover ferry travellers suffer disruption because of a strike in Calais.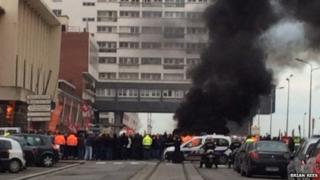 Cross-channel ferry travellers have been suffering disruption to sailings because of industrial action at the Port of Calais.
The Port of Dover said the strike in northern France, began at 07:00 GMT and ended at 17:00 GMT.
It said the Port of Calais had planning to keep a number of berths open, but P&O Ferries tweeted one berth was open, with limited ship movements.
Ferries were also disrupted on 14 November due to action over jobs.
Following the scheduled ending of the strike, Kent Police said motorists heading towards Dover could still expect delays entering the port, with the Port of Dover warning about the build up of freight traffic.
The Port said roads in Dover had remained clear for most of the day, but with limited operations in Calais, ferry services had been subject to some disruption.
Eurostar delays
A spokesman said: "It will take some time for ferries to resume their normal schedule once they have loaded and returned from Calais."
P&O Ferries said striking workers had been demonstrating outside Calais Chamber of Commerce, which runs the port, over delays in planned redevelopment.
They had advised day-trippers not to travel.
A 24-hour strike by Belgian workers means Eurostar's high-speed services between London and Brussels through Kent are starting and finishing at Lille in northern France.
They are planning a similar 24-hour strike next Monday.