Dover ceremony marks army's 2 (South East) Brigade closure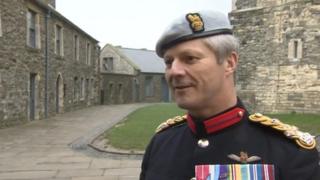 More than 100 years of military history has come to an end with a ceremony to mark the closure of the British Army's 2 (South East) Brigade.
The brigade, whose headquarters were Sir John Moore Barracks in Shorncliffe, Kent, is becoming part of 11 Infantry Brigade based in Aldershot, Hampshire.
Is is part of restructuring that will see a reduction from 102,000 British Army troops to about 82,000 by 2020.
A service to mark the closure was held at the garrison church at Dover Castle.
A plaque dedicated to the removal from the order of battle of 2 (South East) Brigade, was unveiled.
Major conflicts
"2 Brigade has got a long and very proud history," said its commander, Brigadier Chris Claydon.
"In its current incarnation, it dates back to 1902 when the brigade was raised in Aldershot.
"We are now closing the brigade at the end of a long period when it has been involved in every major conflict the county has been involved in, but also serving communities back in the UK."
Soldiers from Shorncliffe were called in to help victims of serious flooding in Kent over Christmas 2013.
The service also saw the handover of the garrison church, St Mary in Castro, to the Bishop of Dover, who accepted it on behalf of the Diocese of Canterbury.