Gravesend fails in Christmas jumper world record bid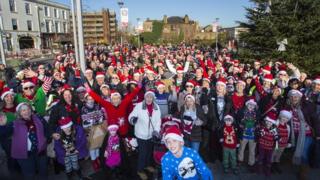 Hundreds of people gathered in Gravesend in a bid to break the world record for the number of people in one place wearing Christmas jumpers.
Gravesham council said the town needed to beat the current record of 639 people held by Three (UK), set at Freeze Festival, London, in 2013.
The council had hoped 1,000 would turn up for its attempt, in aid of Save The Children, but 456 people took part.
In 2013, the town failed to break the world record for elves in one place.
Participants had to be dressed in red and green to qualify.
After last year's attempt, the council said it believed at the time it had broken the record with 948 people, compared with the previous record of 760, but later found out 1,100 elves had gathered in Leeds.
A spokesman for Guinness World Records said the largest gathering of Santa's elves was in fact achieved by Siam Paragon Development Company in Bangkok, Thailand, on 25 November 2014, with 1,762 people.