Ronnie Jessiman: MP praises killed security guard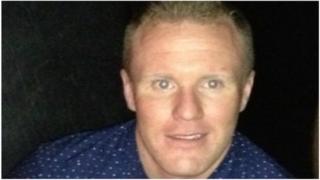 A private security contractor who was killed in Afghanistan was doing an "essential job", an MP has said.
Ronnie Jessiman, 33, was killed when a suicide bomber attacked a British embassy vehicle on Thursday.
He lived in Canterbury with his wife and had previously served in the Argyll and Sutherland Highlanders, before joining security company G4S in 2013.
Julian Brazier MP praised the work done by private security contractors in Afghanistan.
Mr Brazier, who represents Canterbury and Whitstable, said: "We continue to need people protecting people in our embassy as Ronnie was.
"Each time I've been to Afghanistan I've seen the excellent job which these civilian security guards - all of them ex-military - are doing protecting diplomats and visitors like myself."
Three Afghans were killed in the attack and more than 30 wounded, which the Taliban said they carried out.
A G4S spokesman said Mr Jessiman had served on two tours in Afghanistan for the British army.
He added: "Ronnie was married in August this year and lived in Canterbury with his wife Natalie.
"Ronnie was the son of a Scottish serviceman (Royal Engineer) and the family lived in Glasgow."