Doctor Who Peter Capaldi backs Ramsgate hall restoration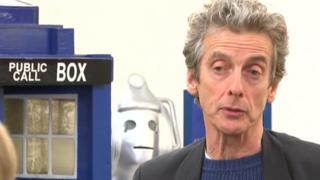 Doctor Who actor Peter Capaldi helped raise £30,000 for the restoration of a concert hall by meeting and having his picture taken with 500 Time Lord fans.
Capaldi also signed autographs and gave a talk at a convention for Doctor Who fans in Slough, Berkshire, on Sunday.
The event was in aid of the restoration of West Cliff Hall in Ramsgate.
The charity Project MotorHouse aims to raise £5m to open the hall as an arts and business training venue for young people.
'Get experience'
"People like myself are very lucky in the sense that we have fallen into jobs and positions that are good for us," said Capaldi.
"We have been able to learn about becoming an actor or an artist or a writer or whatever it is you want to do but sometimes for young people it is hard to get experience of the world - to actually begin to understand what is expected of them and also the possibilities.
"At the MotorHouse they will have an opportunity to do that.
"They will be able to meet and work with people who are prepared to teach them so that they themselves will become the employers of the future."
Janet Fielding, who played Doctor Who's companion in the 1980s, is project director of MotorHouse and organised the convention.
West Cliff Hall, which is sunk into the cliff on the site of Victorian gardens, opened as a concert venue in 1914 and later became a motor museum before closing in 2005.
Many 1960s groups played at West Cliff, including The Rolling Stones in 1964.
Thanet District Council owns the building, which the charity plans to turn into a theatre, cinema, gallery, shop, offices, function room and restaurant.
Young people will be involved in running the venue to gain business experience.
A staff development programme will aim to help them gain the skills needed to start their own businesses in the area, which has high levels of youth unemployment.
Actress Brenda Blethyn, who was born in Ramsgate, is also a supporter of MotorHouse.