Zebra crossing prison chat trapped Claire Tiltman's 'evil' killer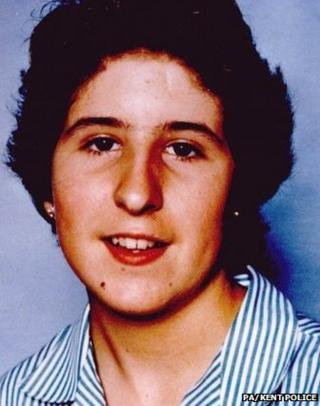 When Colin Ash-Smith told a fellow prisoner about an attack on a zebra crossing it was a confession that proved to be crucial to bringing him to justice for the murder of Claire Tiltman.
The "evil" killer has finally been found guilty of teenager Claire's murder - nearly 22 years after she was brutally stabbed to death.
The 16-year-old Dartford Grammar School for Girls pupil was stabbed nine times in a dark alleyway leading off the A226 London Road, close to her home in Greenhithe, Kent, on 18 January 1993.
Passers-by came to her aid shortly after 18:20 GMT but Claire died at the scene.
Ash-Smith, 46, has been found guilty of the teenager's murder following a trial at Inner London Crown Court.
Jurors heard how he had befriended a fellow prisoner after admitting two other attacks on women, and confessed to attacking someone he saw using a zebra crossing.
It was this and recent changes in the law on evidence of bad character, which also include previous convictions, that helped the prosecution's case in securing a conviction.
Brian Altman QC said Claire had been killed in "a frenzied and remorseless attack by someone having nothing less than the intention of killing her".
Described as "an evil and predatory man", he had "snatched her life away" after she had gone out to visit a friend, said senior investigating officer Det Supt Rob Vinson, from the Kent and Essex Serious Crime Directorate Cold Case Team.
"It should have been a day like any other... then on that day Ash-Smith has not only taken her life, taken her future as well, and destroyed the lives of her family and friends," he said.
Claire knew her killer, who was 24 at the time, as both sets of parents were members of the local British Legion Club.
He lived with his parents in Milton Street, Swanscombe, and even played pool occasionally with the teenager, and subsequently attended her funeral.
Claire was the only child of Linda and Cliff Tiltman, and on the day of the funeral they spoke of their anguish that her killer was still at large and could have been among the congregation.
Mrs Tiltman said: "You look around and you hope that it's someone you don't know, but we don't know...
"That person could have been there. I hope that they weren't.
"I'll never ever forgive that person, for whatever reason... that person's got to be caught."
Mr and Mrs Tiltman have both since died.
Ash-Smith owned a range of weapons, including up to 30 flick, sheath and butterfly knives, which he often carried with him, the court heard.
He also had an air pistol, air rifle, crossbow and imitation Magnum.
Claire was his second victim - he was jailed in 1996 for knife attacks on two other women, which took place either side of Claire's murder and to which he pleaded guilty.
In December 1988 he abducted, attempted to rape and strangle, and repeatedly stabbed a woman in Swanscombe.
In October 1995 he stabbed another woman more than 14 times just yards from the alleyway in London Road where Claire was murdered two-and-a-half years earlier.
Both women survived.
The day after Claire's murder, Ash-Smith phoned the police with a false alibi, giving a "hopeless description" of a man on a zebra crossing, which was a few hundred yards up the road from the scene.
Nigel Pilkington, head of the complex casework unit for the Crown Prosecution Service South East, said: "The information is useless and he's not a suspect because he's a man of good character at that time."
Ash-Smith had called, Mr Pilkington said, because he feared that he or his distinctive "souped-up" white Ford Capri car had been spotted.
He changed his alibi a few days later, giving a different account of what he had seen.
Years later, when he was in Wakefield Prison, Ash-Smith once again made reference to the zebra crossing in a conversation with fellow prisoner Stefan Dubois.
Reading his police statement to the court, Dubois said his friend had told of his [Ash-Smith's] "passing someone on a zebra crossing, snapping, and attacking them".
He assumed the attack was the reason Ash-Smith was in jail, but there were no zebra crossings near the sites of the 1988 or 1995 attacks, and Claire would have used a zebra crossing shortly before she was murdered.
Mr Pilkington said it was a "very compelling piece of evidence" that had come directly from Ash-Smith.
Ash-Smith wrote down details of his "successful" attacks and his other plots in diaries called "assault plans".
They were discovered in his bedroom following his arrest in 1995, and accurately described the 1988 attack and a Swanscombe break-in offence.
They also listed other planned attacks which he never fulfilled.
"Ash-Smith had thought for so many years that he had got away with that brutal murder," said Det Supt Vinson.
"This is a very, very dangerous man. If you want to look at evil then I suggest you look at Colin Ash-Smith."