Claire Tiltman murder accused describes 'rage' stabbing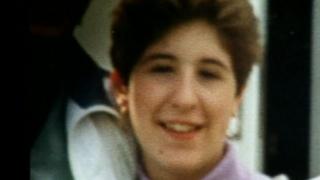 A man accused of killing a teenager has told a jury how he randomly stabbed a young woman 14 times after suspecting his girlfriend of having an affair.
Colin Ash-Smith, 46, told Inner London Crown Court he attacked Charlotte Barnard, 21, in Greenhithe in 1995, "to take my frustrations out on someone".
The ex-milkman also said he offered support to the family of Claire Tiltman, whose murder he is accused of.
He denies killing the 15-year-old in an alleyway in Greenhithe in 1993.
Ash-Smith was jailed in 1996 for the attack on Ms Barnard and another woman.
'Bit of a scumbag'
The defendant told jurors he was in a seething rage on the day he stabbed Ms Barnard because he believed his girlfriend, Stella Murrell, was having an affair.
He said he had arranged to pick up Ms Murrell from work, but he arrived 15 minutes late and she had already left.
"I had it in my head that she was seeing someone else and I thought she got a lift with him," he said.
The court heard he began driving around the area to search for "anyone" to take his frustration out on.
He targeted Ms Barnard after abandoning a plan to attack a man he had spotted. "I thought 'They will do instead'," he said.
Ash-Smith said he had "felt relieved" after stabbing Ms Barnard and "didn't care" what happened to her.
However, he admitted he now felt "a bit of a scumbag for doing it", as "she should have been able to go about her business without me coming across her."
'Wanted to kill'
The defendant then went on to tell jurors he and his father Aubrey had grown close to Claire Tiltman's family following her murder.
"After it happened, my dad and I volunteered to help support them in any way we could through the British Legion Club and I got to know them reasonably well, her parents," he said.
When asked about the murder by David Nathan QC, defending, Ash-Smith said he had been angered by the effect the murder had had on Claire's parents and he "wanted to kill" her killer.
He insisted that at the time of Claire's murder he had been driving his mother, who was a Labour councillor at the time, to a constituent's home.
When asked why his girlfriend Ms Murrell had reported he was acting strangely in the days following the murder, he said the event had upset many people in the area.
The trial continues.