Figures show migration to South East has doubled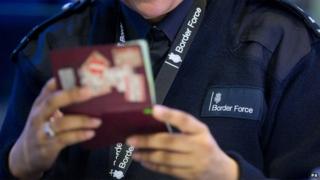 Figures from the Office for National Statistics show that the number of migrants coming to the South East doubled from 13,000 in 2012 to 26,000 in 2013.
The issue of immigration dominated the recent by-election campaign in Rochester and Strood with the parties arguing over the levels of immigration and how to tackle it.
These figures do suggest a significant increase in the number of people coming to live in the South East - an almost doubling. There is a caveat with the figures, as there is a margin of error of plus or minus 9%, but they still show an upward trend.
The rise was driven by immigration from other parts of the European Union, particularly from Romania.
Blow to Cameron
The figures also show the number of people emigrating from the South East to live abroad has fallen considerably - from 46,000 in 2012 to 36,000 in 2013. Perhaps as a result of our strengthening economy more people are choosing to stay.
David Cameron pledged to cut the number of migrants coming to the UK to the tens of thousands before the next general election.
There is no doubt that these figures are a real blow to him.
The UKIP leader Nigel Farage has seized on the figures and said they marked the final failure of Mr Cameron's general election pledge from 2010.
They come after the Home Secretary Theresa May said at the weekend that the government is unlikely to meet its target to reduce net migration to "tens of thousands".
It's awkward for David Cameron who is under pressure from the rise in popularity of the UK Independence Party - they got their second MP at Westminster last week when they won the Rochester by-election. The party wants strong curbs on the number of people coming to Britain.
In this region we've seen immigration shoot to the top of voter concerns and it's likely to continue to dominate the agenda ahead of May's election.
David Cameron hopes to tackle the issue head on and is said to be considering a pledge to bar new EU arrivals from claiming benefits for two years - but will it be enough to help counter the electoral threat from UKIP?
The government's attempts to control immigration to the UK have been delivered another blow as latest official figures reveal another surge in arrivals.