Claire Tiltman murder accused admits he was 'an animal'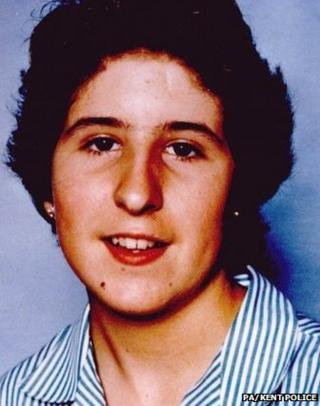 A man accused of killing a teenager has admitted going on "midnight walks" armed with knives and an air pistol looking for someone to attack.
Colin Ash-Smith, 46, denies stabbing 16-year-old Claire Tiltman to death in Greenhithe, Kent, in January 1993.
Taking the witness stand at Inner London Crown Court, he said he was an "animal" and "obsessed" with women, and hated them as he feared their "power".
The former milkman is accused of Claire's "savage and brutal" murder.
Jurors were told he had admitted stabbing two young women in 1988 and 1995 - for which he has since been jailed - and leaving them for dead, although both survived.
'Assault plans'
Ash-Smith told the court he had never set out to rape or kill a woman.
He wrote down details of his "successful" attacks and his other plots in diaries called his "assault plans".
Asked by David Nathan QC, defending, if he liked women, Ash-Smith said: "Yes and no. I didn't like them because I felt they had power over me.
"My own perception of them was I couldn't trust them because they used me.
"I felt worthless - low self-esteem and I had no confidence around other people. I wasn't happy around most people."
He admitted having a stash of 20 to 30 knives, including flick, sheath and butterfly knives, which he carried with him wherever he went.
He also had an air pistol, air rifle, crossbow and imitation Magnum in his hoard of weapons.
Claire, a Dartford Grammar School for Girls pupil, was murdered in an alleyway near her home in Greenhithe, four days after her 16th birthday.
'Lie in wait'
Earlier, the court heard that Claire could have been killed by the same London man who murdered Rachel Nickell, 23, on Wimbledon Common in July 1992, and Samantha Bisset, 27, and her four-year-old daughter in Plumstead in November 1993.
Robert Napper, who is indefinitely detained in Broadmoor Hospital, also carried out a series of sex attacks throughout south-east London in the early 1990s.
Mr Nathan told the court that Napper painstakingly plotted his attacks and although most had taken place around Woolwich, Ms Nickell's killing showed he was willing to travel to strike.
He said Napper could have discovered from research that the alleyway where Claire was killed was an "ideal place to lie in wait for his suitable victim", and that a train from Woolwich had arrived at Greenhithe station at 18:07 GMT, just before the schoolgirl's murder.
'Guesswork'
Jurors also heard that a 12-year-old boy saw a man matching Napper's description near the station minutes after the train arrived.
Mr Nathan branded the prosecution case "guesswork" and urged jurors to put the "terrible" attacks Ash-Smith had previously admitted to out of their minds.
"Guesswork is not enough to find this man guilty of this horrific murder. There is no evidence to support any of this."
Mr Nathan also suggested that another known killer, Peter Rivers, could have murdered Claire.
He told jurors that in the early hours of 1 February 1994 Rivers strangled his mother with a toilet chain and then killed himself by setting himself on fire.
It happened just after the first anniversary of Claire's killing when his mother began suspecting him of the schoolgirl's murder.
Mr Nathan said a man fitting Rivers' description was spotted in Greenhithe on the night of Claire's murder.
"Could it have been Robert Napper? Could it have been Peter Rivers? Is there a realistic possibility they could have been responsible for her death?" he asked the court.
The trial continues.