Folkestone air show firm goes into administration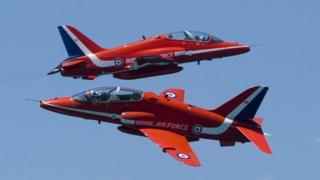 The organiser of a Kent air show has gone into administration.
Open Air Promotions staged Folkestone Air Show in June which attracted more than 150,000 visitors but the event did not make sufficient money.
The company said it was "with regret that Open Air Promotions Limited is no longer in a position to continue trading".
Shepway Council has vowed to support attempts to run the event next year and has £12,000 of funding available.
'Brave attempt'
Councillor David Monk, Shepway District Council leader, said: "We are talking to other people who run other air shows to see if they could come up with something but so far we have not been lucky.
"So I cannot say whether or not we are going to get an air show next year.
"What I can say is if someone comes forward we have the £12,000 in place in the budget."
Open Air Promotions added that it had appointed an accountancy firm to assist in placing the company into voluntary liquidation.
Five people have lost their jobs.
Philip Carter, from Go Folkestone, said: "I think any air show where you do not charge will struggle.
"I think it was a brave attempt by a new team of people putting it together and my opinion, and many business peoples' opinions, it was over ambitious."
In 2013, the air show was run by Folkestone town centre management and had to be cancelled a few weeks before the event due to a lack of funding.