Teachers named in Gillingham school isolation room inquiry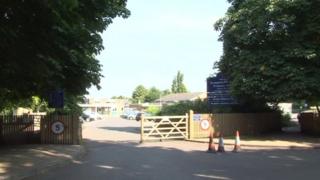 A head teacher is one of four teachers at the centre of an inquiry at a school where pupils were allegedly locked in an isolation room, the BBC can reveal.
A council report on Brompton Westbrook Primary School in Gillingham, Kent, has said four senior teachers have "a case to answer" for gross misconduct.
Parents Alison Lovett and Patricia Wilkins took their children out of the school over concerns about the room.
The school said it could not comment while an investigation was ongoing.
Both parents have said their children suffered after being locked in the room for extended periods.
'Treated as prisoners'
It is understood the room measured 2.5ft x 9ft (0.7m x 2.7m).
Ms Lovett said: "My nine-year-old was put in there for a whole week at one stage.
"The door would get opened, he would be handed his lunch, and it would be shut again."
Ms Wilkins added: "Isolation rooms are necessary, [but] what I object too is the door being locked, and the children being treated as prisoners."
Complaints about its use prompted an investigation by Medway Council.
BBC South East Today has learned that the four members of staff named in its report are Jane Heyes, executive head teacher, Sue Mason, acting head teacher, Jon Carthy, assistant head teacher, and Karen Price, assistant head teacher and special educational needs co-ordinator.
It is believed the initial investigation by Medway Council began in June.
However, on 1 October the school converted to an academy and the school's trustees appointed an independent investigator, whose inquiry is ongoing.
In a statement, Brompton Westbrook Primary School said: "We can confirm that no member of staff was suspended by Medway Council while they were conducting their investigation and that continues to be the case while the investigation is completed."
A spokesman for the Department for Education added: "The council has carried out a full investigation into this issue, which has been passed to the trustees.
"If there is any evidence of misconduct, we expect the school to take the appropriate action and we will be monitoring the case closely to make sure they do so."