Man charged with Alison Chapman antique shop raid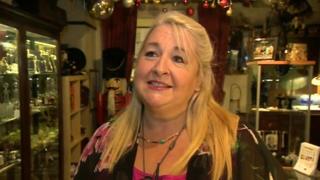 A man has been charged with burglary after jewellery worth thousands of pounds was stolen from a shop belonging to a TV antiques dealer.
Anthony Foord, 35, from Reachfields in Hythe, has been charged with six offences including the burglary at Owlets, in Hythe, on Sunday.
The shop is owned by Alison Chapman, who appears on ITV's Secret Dealers and Dickinson's Real Deal.
Mr Foord was remanded in custody by Medway magistrates until 8 December.
Kent Police said the charges also related to an assault and shoplifting incident in Military Road, on Sunday, an attempted robbery in Mount Street, on 14 November and an assault in Portland Road, on 22 September.
Mr Foord is charged with two counts of assault, attempted robbery, possession of an offensive weapon in a public place, burglary and shoplifting.