Mother of accused killer Colin Ash-Smith 'quizzed police'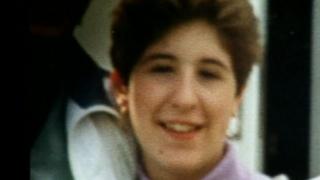 The mother of a man accused of killing a Kent schoolgirl 21 years ago used her position on a council to quiz police about their inquiry, a court has heard.
Colin Ash-Smith, 46, is on trial charged with stabbing to death Claire Tiltman, 16, in Greenhithe in 1993.
Ash-Smith - who has since been jailed for stabbing attacks on two other women - denies murdering the teenager.
Jurors at the Inner London Crown Court heard how Mrs Ash-Smith repeatedly asked police about a car being sought.
Former Swanscombe and Greenhithe mayor Philip Crow said he and two other councillors - including Mrs Ash-Smith - had been invited to a police briefing about the ongoing investigation.
The killing had made locals uneasy, he said, adding: "It caused a lot of anxiety."
At the time, Ash-Smith was driving a distinctive "souped-up" white Ford Capri car and, the court heard, had fed detectives a "false alibi" covering the time of Claire's killing, claiming to have been out leafleting with his mother Diane, who was a Labour councillor and later the local mayor.
Ash-Smith - who sports a mop of fair hair - is also said to have phoned police to say he had seen someone with curly dark hair at the scene of the crime.
Brian Altman QC, prosecuting, said Ash-Smith had lied because he feared his car had been spotted.
Giving evidence, Mr Crow said that during the police briefing Mrs Ash-Smith kept asking officers what type of car they were looking for.
"She kept coming back to the vehicle ... [There was a] reluctance to let the questioning go to other areas," he recalled.
The Crown has said Ash-Smith effectively confessed to the killing of Claire during a conversation with a fellow inmate at Wakefield Prison, when he "let slip" a crucial detail about a pedestrian crossing that linked him to the murder.
In a prison telephone conversation this August, which was played to the court, Ash-Smith told his friend Stefan Dubois how "desperate" police had become to link him to the crime.
The trial continues.