David Cameron in fifth Rochester and Strood by-election visit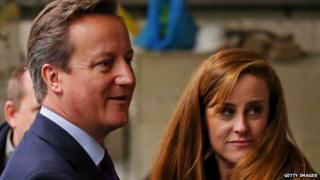 David Cameron has made his fifth and final visit to Rochester and Strood, ahead of Thursday's by-election.
The prime minister was on the campaign trail with the Conservative candidate Kelly Tolhurst.
The by-election was triggered after Mark Reckless left the Tories and joined UKIP, in September. He is the bookies' favourite to win the seat.
Of all the party leaders, Mr Cameron has made the most visits to the constituency during the campaign.
UKIP's Nigel Farage has visited four times, Labour's Ed Miliband and the Green's Natalie Bennett have visited once and Lib Dem leader Nick Clegg has not yet visited.
'Community at heart'
Mr Cameron said: "I want the people in Rochester and Strood to have the best possible choice: Kelly Tolhurst, a strong local candidate, living here, working here, born here, raised here, the community absolutely at her heart.
"I think Kelly has fought a very strong local campaign... and she has been very strongly backed by the Conservative Party - by Cabinet ministers and ministers - and I think it's absolutely right to do that."
Ms Tolhurst was selected as the Tory candidate in an open postal primary. She is currently a local councillor for the Rochester West ward.
"I believe in leading from the front, so I have been keen to come down here five times and to play my part in the campaign. It's the right thing to do," continued Mr Cameron.
"The only poll that counts, as they say, is the one on polling day. It's quite clear this is a two horse race."
The full list of candidates, in alphabetical order by surname, is:
Barker, Mike - Independent
Challis, Christopher - Independent
Davidson, Hairy Knorm - Official Monster Raving Loony Party
Fransen, Jayda - Britain First
Goldsbrough, Stephen William - Independent
Gregory, Clive - Green Party
Juby, Geoff - Liberal Democrats
Khan, Naushabah - Labour
Long, Nick - People Before Profit
Osborn, Dave - Patriotic Socialist Party
Reckless, Mark - UK Independence Party
Rose, Charlotte - Independent
Tolhurst, Kelly - Conservative