Dover ferry passengers to face Calais strike disruption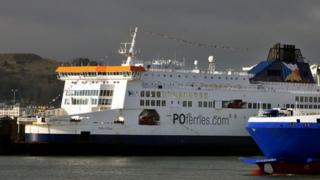 Ferry operators have warned passengers travelling between Dover and Calais to expect delays on Friday because of potential industrial action in France.
P&0 Ferries has advised day-trippers to consider rebooking for another day as staff from three unions hold a meeting in Lille over the future of their jobs.
It said it was unclear how services would be affected as the Port of Calais still planned to keep some berths open.
Services are expected to return to normal from late Friday night.
P&O Ferries said it regretted the situation, which was beyond its control, and said it would endeavour to keep any delays to a minimum.