Rochester and Strood by-election: Four more smaller parties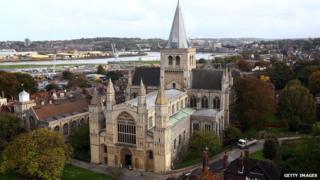 For weeks now the main candidates have been out in force - backed by their party machines and with the support of their leaders, but the smaller parties and independent candidates have also been hitting the campaign trail in the run-up to the Rochester and Strood by-election.
Britain First was formed in 2011 by former members of the BNP. They're opposed to plans for a new mosque and community centre in nearby Gillingham and against further immigration:
It's the first time they've stood in this constituency. Their candidate, Jayda Fransen, is also the party's deputy leader.
She says: "Immigration now is about space, not race. We do not have capacity to keep flooding these small town with immigrants.
"Britain First's policy is to cap immigration now and look after the people who are already resident."
It's not a first by-election for Charlotte Rose who isn't local either. She says she's passionate about local residents. She's a sex worker and sexual trainer who also stood in the recent Clacton by-election.
She says her main policy is "about sexual freedom - taking control away from others".
She's campaigning for better sexual education in schools. She says they are not obliged to teach advanced sex and relationship education, which can deal with issues such as porn addiction and intimacy issues.
She's standing because she believes politicians have a lack of knowledge and understanding about what's really happening.
'Christmas gift'
Patriotic Socialist Party candidate Dave Osborn isn't local to the constituency but believes he's the right man to represent residents.
"I would be a voice, I would be able to say to parliament this is what the people of Rochester want - they want to be listened to, they want a decent hospital, they want jobs and they want houses," he says.
And it's not quite the festive season yet, but the Independent candidate, Mike Barker, has been campaigning as Father Christmas - he says a vote for him would be a gift to residents in Rochester and Strood.
His main priority is clearing the SS Richard Montgomery - an American ship built during World War Two which was wrecked on the Nore sandbank in the Thames Estuary in 1944 with around 1,400 tonnes (1,500 tons) of explosives on board.
Mr Barker says: "I want to clear the SS Richard Montgomery wreck which is a threat not just to the people of Strood and Rochester but also to the whole of the South East of England because of the presence on the Isle of Grain of the largest storage of liquid natural gas within the danger area of the Montgomery."
So it's a full field - as well as the five main party candidates there are a further four independents and four smaller parties.
Only one candidate can become Rochester and Strood's next MP - voters will decide who it is next Thursday.