Rochester and Strood by-election: Labour's 'enormous effort'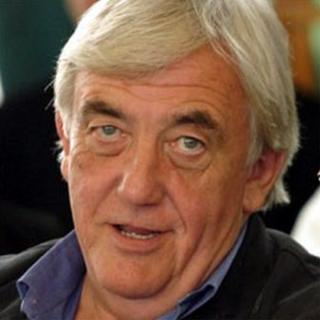 A former Kent Labour MP who held the seat covering Rochester and Strood said the party had not been "invisible" in the by-election campaign.
Bob Marshall Andrews, MP for Medway for 13 years from 1997, said Labour was putting in an "enormous effort".
The latest Lord Ashcroft poll puts Labour in third on 17% with UKIP on 44% and the Conservatives on 32%.
Matthew Goodwin, from the University of Nottingham, who has studied the rise of UKIP, said Labour was "invisible".
He added: "Labour were controlling this area until 2010 and as a main party of opposition they should be throwing a lot more resources into this contest"
But Mr Marshall Andrews, who was described as a serial rebel, opposing the Blair government on issues including Iraq and civil liberties, denied the claims.
He said: "We have got a difficult fight here, that is another matter.
"Every time I have been down here there have been Labour Members of Parliament here, shadow cabinet ministers here, we are not invisible."
'Very depressing'
All the five main party leaders have visited the constituency except Liberal Democrat leader Nick Clegg.
UKIP said the latest poll showed that Conservatives "attacks were not working".
The Green party said it was on track to beat the Liberal Democrats after the figures showed it was on 4% ahead of the Liberal Democrats on 2%.
While the Liberal Democrats said as a party it did not comment on opinion polls but added its candidate Geoff Juby was "working very hard for the residents of Rochester & Strood by listening to them rather then making nationally focused proclamations".
---
The full list of candidates, in alphabetical order by surname, is:
Barker, Mike - Independent
Challis, Christopher - Independent
Davidson, Hairy Knorm - Official Monster Raving Loony Party
Fransen, Jayda - Britain First
Goldsbrough, Stephen William - Independent
Gregory, Clive - Green Party
Juby, Geoff - Liberal Democrats
Khan, Naushabah - Labour
Long, Nick - People Before Profit
Osborn, Dave - Patriotic Socialist Party
Reckless, Mark - UK Independence Party
Rose, Charlotte - Independent
Tolhurst, Kelly - Conservative