WW1 memorial for Sittingbourne Victoria Cross recipient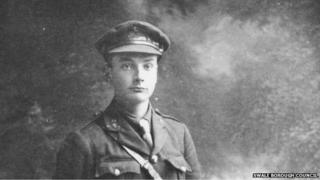 A commemoration event for the longest surviving World War One recipient of a Victoria Cross has taken place in Sittingbourne.
Col Donald Dean was awarded the Victoria Cross in 1918 for bravery and devotion to duty near Lens in France.
He also fought in World War Two and died in Sittingbourne in 1985 at the age of 88.
A commemorative stone was unveiled at Sittingbourne war memorial in the presence of members of his family.
The event is part of a series of activities in the town which is twinned with Ypres in Belgium.
Donald Dean was serving in the Queen's Own Royal West Kent Regiment when he was awarded the Victoria Cross.
The London Gazette, on 14 December 1918, reported he was honoured "for most conspicuous bravery, skilful command and devotion to duty during the period 24th to 26th September 1918, when holding, with his platoon, an advance post established in a newly-captured enemy trench north-west of Lens".
The report went on: "The left flank of the position was insecure, and the post, when taken over on the night of the 24th September, was ill-prepared for defence.
"Shortly after the post was occupied the enemy attempted, without success, to recapture it.
"Under heavy machine-gun fire consolidation was continued, and after midnight another determined enemy attack was driven off.
"Throughout the night Lieutenant Dean worked unceasingly with his men."
He was invested with his Victoria Cross at Buckingham Palace by King George VI in February 1919.