Rochester and Strood by-election: The smaller parties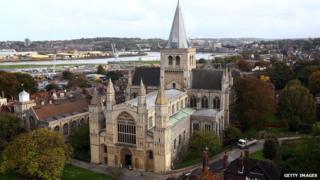 There's been no shortage of visits from the main party leaders, including David Cameron and Ed Miliband, during the Rochester and Strood by-election campaign.
But as well as the big parties there are also several people representing smaller parties.
All 13 candidates are battling to be the next MP for the constituency, which was formed in 2010. Before that it was known as Medway.
It encompasses an area much larger than the towns and outskirts of Rochester and Strood, also taking in the former Chatham Dockyard, St Mary's Island, the Isle of Grain and the Hoo Peninsula.
One of the independents, Chris Challis, says he will put issues affecting the area first.
'City status returned'
He lives locally and wants to "promote the area as a tourist venue". Mr Challis says if "we can promote business we get jobs and if we get jobs we get taxes, then we get better services and everybody wins".
Stephen Goldsbrough - another independent candidate - also believes he has the answers to the problems facing local people and would aim to be "a voice for the poor, marginalised and disaffected".
Mr Goldsbrough wants city status returned to Rochester, "21st Century parking and access at Medway Maritime Hospital" and the protection of green spaces in the constituency.
Nick Long is a government housing officer based in Lewisham in south-east London who thinks his employment skills would benefit constituents.
He says: "Three percent of the housing stock is empty and the argument I would put forward is we need to do more to tackle long-term empty properties."
'Protest vote'
And despite the Official Monster Raving Loony Party pledging to stop all by-elections in the nine months before a general election they've decided to field Norman "Hairy Knorm" Davidson from Sittingbourne as their candidate.
He believes the Loonies play an important role in elections - allowing people to vote for a party that doesn't have a chance of winning as a protest vote.
They would all like to win on 20 November or at least gain enough votes - 5% - to be able to hold on to their deposits.
In my next blog I'll look at the remaining four candidates who are standing for the smaller parties in Rochester and Strood.