Bulgarian brown bears rescued by Wildwood park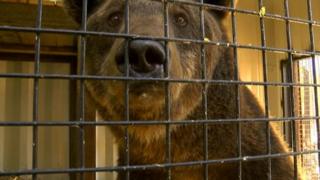 Two bears which had been abandoned in concrete enclosures in Bulgaria have been rescued by a Kent wildlife charity.
The Wildwood Trust said the 16-year-old European brown bears were bred to be hunted, but were left when this was outlawed in 1993.
The bears arrived at the Herne Bay wildlife park a three-day journey from southern Bulgaria.
The £50,000 cost of the rescue was raised by a public appeal.
More will be needed to provide facilities for the animals, which have never experienced life outside a concrete pen.
They were among several bears kept alive by local people feeding them porridge.
"They haven't had a great diet," said Wildwood Trust chief executive Peter Smith.
"They have been in terrible conditions but it is their mental health that we are really worried about.
"The big job Wildwood has is to rehabilitate these bears and we will do that by giving them all the things they need - a beautiful woodland enclosure, a huge swimming pool and company.
"These bears have been in solitary confinement - they need a bit of company."
Dental treatment
Among contributors to the appeal were pupils from Herne Junior School, who raised more than £2,000.
Teacher Mark Taylor said the project had helped children to learn about Bulgaria and the bears' habits and natural habitat.
The rescued bears are not on public view while their condition is monitored by Wildwood staff.
They will be kept in a quarantine enclosure for four months.
In the next few days they will undergo veterinary tests and dental treatment.