Battle for Rochester: Issues beyond immigration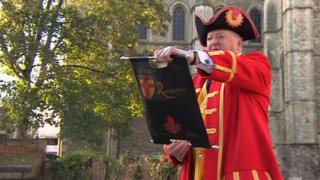 Education, Education, Education was how Tony Blair set out his priorities for office ahead of the 1997 General Election.
Perhaps the Rochester and Strood by-election campaign could also be summed up in three words - Immigration, Immigration, Immigration.
It was always going to be a big issue, given this vote was triggered by the local MP's defection from the Conservatives to UKIP.
The party's leader Nigel Farage said earlier this year that his party would not allow any migrants who want to settle to come to the UK for five years while immigration policy was sorted out.
The Conservatives and Labour have both stepped up their rhetoric on immigration in response.
Squeeze on wages
But it's by no means the only issue being discussed on the doorsteps.
Tied in with immigration is a concern over living standards and wages being squeezed by migrant workers.
And it's not a scientific poll, but when I've spoken to voters on the streets of Rochester and Strood the crisis which has engulfed the Medway Maritime Hospital (which was taken into special measures over a year ago) seems to be the area of most concern for residents.
Slightly further out residents in Hoo are worried about plans to build 5,000 homes at Lodge Hill - on a Site of Special Scientific Interest - and the Green Party and Liberal Democrats have made fighting it one of their key policies.
The other big bugbear seems to be traffic management - businesses say they're suffering due to the long-standing traffic hold-ups on Medway's biggest trading estate, worsened by what they describe as "incompetent" highways management of roadworks nearby.
So, it seems although immigration has dominated the debate so far, it's a mixture of local and national issues which voters will consider when they go to the polls on 20 November.