Green Party opposes Lodge Hill homes on nightingale site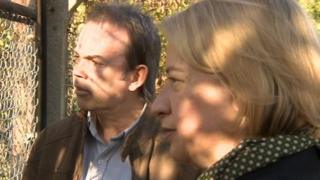 Green Party leader Natalie Bennett says she opposes plans to build 5,000 homes at Lodge Hill, approved by Conservative-led Medway Council.
The area, designated a Site of Special Scientific Interest, is home to a large nightingale population.
Ms Bennett said: "We need new homes but these are not the kind of homes we need."
She was campaigning in the area in the run-up to the Rochester and Strood by-election.
Clive Gregory the Green Party's candidate in the Rochester and Strood by-election said there was still a chance to stop the plan.
He called on Eric Pickles, the Secretary of State for Local Government, to step in.
Ms Bennett said: "The Green Party is the only party in the area that has consistently been opposed to this development. Our candidate has been opposing it all the way along.
"We've got a beautiful natural environment here, a site of special scientific interest, with nightingales, a particularly evocative bird, and we are saying that putting 5,000 homes here is absolutely not what we need."
"I came out here today, coming through, looking at how much traffic there is in the area, how much pressure there is on the whole area already."
Louise Stewart, the BBC's political editor in the South East, said: "It's a classic Green Party issue - and sits much more comfortably with it than the other big issue dominating this by-election - immigration.
"At the last general election the Greens barely registered in Rochester and Strood, receiving only 1.5% of the vote - compared with the 16.3% for the Liberal Democrats.
"But a recent poll suggests that the Greens are polling higher nationally than the Liberal Democrats, who are in government."
---
The full list of candidates in alphabetical order by surname, is:
Gregory, Clive - Green Party
Fransen, Jayda - Britain First
Juby, Geoff - Liberal Democrats
Khan, Naushabah - Labour
Reckless, Mark - UK Independence Party
Tolhurst, Kelly - Conservatives
---