Gunpowder Plot 'witchmarks' found at Knole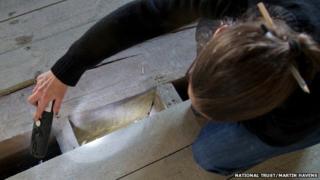 A series of 17th Century "witchmarks" believed to be connected to the 1605 Gunpowder Plot have been uncovered at a historic house in Kent.
The marks, which include a chequerboard, mesh designs and interlocking V-shapes, were found on beams and joists at Knole.
The National Trust said the marks were found under the floor and on fireplace surrounds in the Upper King's Room.
They have been dated to early 1606 by archaeologists using tree ring dating.
Experts from the National Trust and the Museum of London Archaeology (MOLA) believe the marks were carved by craftsmen to protect King James I from evil spirits.
The Upper King's Room was remodelled for the king by the owner of Knole, Thomas Sackville, who was the king's Lord Treasurer.
He hoped James would visit, though he never did because Sackville died the year after the remodelling.
The National Trust said that a few months before the carving of the marks, also known as apotropaic marks, mass hysteria had swept the country following the Gunpowder Plot.
The word apotropaic comes from the Greek apətrəpeɪɪk meaning "to turn away" and has been used to describe symbols, objects, carvings and talismans which have traditionally been associated with warding off evil.
The Gunpowder Plot
The Catholic plot to assassinate King James I by blowing up the House of Lords was, at the time, considered to be demonic in origin.
The plotters hoped to restore Protestant England to Catholicism but were foiled at the 11th hour, an event still celebrated annually on 5 November and named for the most famous of the conspirators - Guy Fawkes Night.
"King James I had a keen interest in witchcraft and passed a witchcraft law, making it an offence punishable by death and even wrote a book on the topic entitled Daemonologie," said MOLA archaeologist James Wright.
"These marks illustrate how fear governed the everyday lives of people living through the tumultuous years of the early 17th Century.
"To have precisely dated these apotropaic marks so closely to the time of the Gunpowder Plot, with the anticipated visit from the King, makes this a rare if not unique discovery.
"Using archaeology to better understand the latent fears of the common man that were heightened by the Plot is extremely exciting and adds huge significance to our research about Knole and what was happening at that time."
The marks were uncovered during the National Trust's five-year conservation project at Knole.
The Heritage Lottery Fund announced a £7.75m grant for the work to repair and conserve the former Archbishop's Palace in Sevenoaks.