Dover Medical Practice to close as private firm pulls out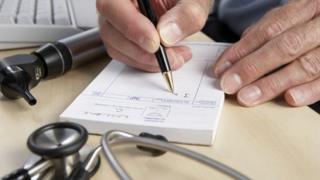 Almost 3,500 patients have been told they will have to find a new doctor because their surgery is closing.
Concordia Health, the private medical group which manages the Dover Medical Practice in Kent, told NHS England that it was bringing its contract to an end.
Dr Ricky Allen, a GP at the practice, said it would leave a lot of vulnerable people without access to a local GP.
Concordia Health, which also pulled out of a practice in Broadstairs earlier this year, has not commented.
The Dover Medical Practice, in Maison Dieu Road, will close on 30 November.
'Vulnerable patients'
Dr Allen described it as a "disastrous" decision.
"We have a very high proportion of non-English speaking people, people with chronic mental health conditions, severe learning difficulties, lots of people of no fixed abode, kids on the child protection register.
"My concern is who's going to pick up the pieces when this place shuts down?" he said.
Dr Allen added that he feared a lot of people would be unable to find alternative GPs because they would not be deemed "attractive as patients".
"Concordia - they're a business - they come into things to make a profit, and I think they've found - something we've known all along - you won't really make a profit from general practice," he said.
The Kent and Medway section of NHS England said it would be writing to patients in the next few days to tell them how to register with a new practice.
It added that Pencester Health, which runs the Dover Health Centre, had agreed to take on additional patients.