Claire Tiltman 1993 murder case: Ex milkman Colin Ash-Smith on trial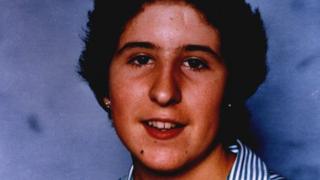 A former milkman has appeared in court to face trial over the murder of a Kent schoolgirl who was stabbed to death more than 20 years ago.
Claire Tiltman was knifed more than 40 times in an alleyway near her home in Greenhithe on 18 January, 1993.
The 16-year-old's unsolved killing had been one of Kent Police's longest running cases.
The trial of Colin Ash-Smith, at Inner London Crown Court, is expected to take up to six weeks.
The 45-year-old was charged with her murder earlier this year after cold-case detectives reopened the investigation.
Potential jurors were asked on Monday to fill out a questionnaire designed to find out whether they had any links to the case.
Only child
Claire Tiltman, who went to Dartford Grammar School, died four days after her 16th birthday in the alley off the A226 London Road as she took a shortcut to visit friends.
She was an only child and her father Cliff died in September 2012 and her mother Lin died in 2008.
Mr Tiltman made a fresh appeal for information about his daughter's death from his nursing home.