Kent-wide fast food school ban could be introduced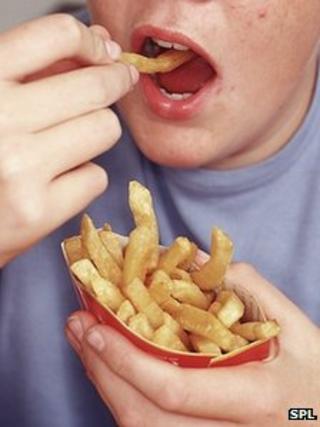 Plans to stop new fast food outlets opening at certain times near schools could be introduced across Kent.
Medway councillors voted in July to stop new takeaways opening near secondary schools at lunchtime and near secondary and primary schools immediately after school.
Kent County Council is now considering introducing restrictions county-wide.
Paul Luxmoore, head of two schools in the county, said the proposals would be difficult to enforce.
Existing fast food outlets would be unaffected by the proposals.
Andrew Scott-Clark, Kent's interim director of public health, said: "We need to do this systematically across all of our 12 districts and boroughs.
"Whilst I wouldn't want to hold up fast food outlets as the sole source of the problem, there's no doubt that diets that are energy-dense or have high calorie value, when eaten frequently, contribute to the obesity issue."
---
Medway takeaway restrictions
•No new hot food takeaways to open between noon and 14:00 within 400m (437yd) of a secondary school
•No new hot food takeaways to open between 15:00 and 17:00 within 400m (437yd) of a primary or secondary school
•Takeaway developers to pay £100 per 10m sq contribution to public health initiatives to tackle obesity
•The restrictions will not apply to existing businesses
---
Mr Luxmoore, executive head of Dane Court Grammar School in Broadstairs and King Ethelbert School in Birchington, said: "I think it's an interesting move and won't be a bad thing, even if it's going to be quite difficult to enforce and quite hard to discriminate as to what counts as fast food."
He said students at Dane Court had access to a nearby supermarket and fish and chip shop.
"Competing as a school canteen against shops and supermarkets is quite difficult," he said.
"My dream would be for the whole country nationally to subsidise food in schools."