Chilmington Green plans for 5,750 homes approved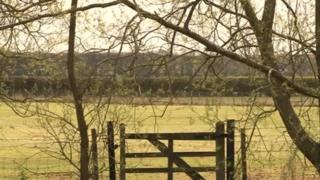 A plan to build up to 5,750 houses on farmland in Kent has been approved.
Opponents of the Chilmington Green scheme gathered a petition of more than 8,000 names, but the proposals were passed by Ashford councillors.
Campaigners said the scheme was in effect a town and "deeply unpopular".
But a report submitted to the planning meeting on Wednesday said the development had every prospect of being a well-balanced, attractive and sustainable community.
'They want to invade us'
The area includes the hamlet of Chilmington Green but the land is predominantly agricultural, the report said.
Chilmington Green resident Simon Good said "It will be killed. It's a very peaceful part on the edge of the Weald [and] they want to invade us with nearly 6,000 homes."
He said the development would completely transform the hamlet that went back at least 1,200 years.
Independent councillor Peter Davison, who opposes the plans, said residents' quality of life would be severely affected and that it was a disgrace 1,000 acres of productive farmland were being built on.
Ian Bull, planning consultant for a consortium of developers behind the scheme, said the site had been identified for development by Ashford Borough Council and the council's plans for an "urban extension" had been tested by an inspector.
Development of the infrastructure could begin next year with work on the actual housing starting in 2016, he said.
Ashford council declined to comment to the BBC after the meeting.