A2 diversion to Dover to get extra signs after 'traffic chaos'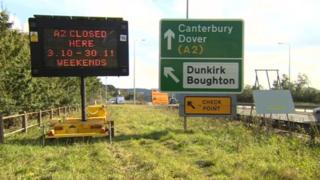 Gridlocked farm tracks and roads have led the Highways Agency to rethink the signs for a 40-mile diversion in Kent.
A six-mile stretch of the A2 has been closed for the last two weekends between Brenley Corner, where the road meets the M2, and Harbledown, near Canterbury, for essential resurfacing.
The work on the main route to Dover continues for the next seven weekends.
Canterbury City Council leader John Gilbey said poor signs had resulted in Dover-bound trucks blocking city roads.
"Such poor signposting - all they got was that the road was closed and nothing else," he said.
Additional signage
Drivers getting confused over the diversions have also caused traffic chaos around Blean, Rough Common and Faversham.
Andrew Broughton, from the Highways Agency, said the signs had "never taken motorists through Canterbury", but via the Thanet Way and the A256.
However, he said additional signage would now be put in place "just to reiterate the diversion route".
The repair work on the A2 is being carried out between 20:00 on Fridays and 06:00 on Mondays, and is expected to be completed by 1 December.
The stretch of road carries up to 19,000 vehicles a day.