New-look Dartford Crossing images released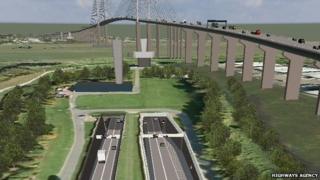 Images of the Dartford Crossing with the toll booths are removed have been released by the Highways Agency.
The current 27-lane system will be replaced by four expressways in each direction and lanes to help turn away vehicles unsuitable for tunnels.
The removal of the booths will coincide with the introduction of the Dart Charge remote charging system.
Work to remove the payment booths is expected to be completed next spring, the agency spokesman said.
The charges are due to come into force in late November.
The system will see a 50p increase from the current charge to £2.50 for cars and a rise from £5 to £6 for lorries - for those who do not have Dart Charge accounts.
There will be no charge for using the crossing overnight between 22:00 and 06:00.
A Highways Agency spokesman said: "Dart Charge will improve journeys at the Dartford Crossing by removing the need for drivers to stop at a barrier to pay the crossing charge.
"Instead, drivers will be able to pay online, by phone, by post or at one of thousands of Payzone outlets nationwide, either in advance of their journey or by midnight on the day following it."