Banksy mural on Folkestone park wall vandalised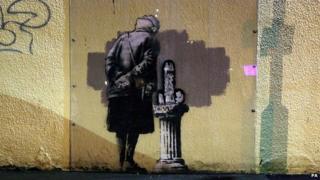 A mural by the street artist Banksy in Folkestone has been vandalised with an obscene image.
The image of a woman staring at an empty plinth had been painted on a wall in Rendezvous Street last month for the town's Triennial Festival.
On Sunday night a spray-painted image of a penis was added to the mural, which had earlier been covered with clear plastic sheeting.
The artwork is not believed to have been permanently damaged.
Kent Police said it was investigating the incident.
Banksy confirmed that the mural, "Art Buff", was his work by posting it on his website.
After it appeared, Shepway District Council said it would work with the owner of the building in in Payers Park to ensure it remained undamaged.