Freed Ray Cole's Moroccan friend 'released from jail'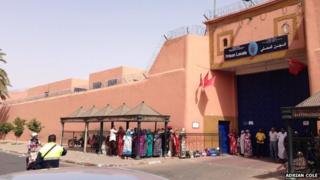 A Moroccan man who was jailed for "homosexual acts" with a British friend has been released from jail, Agence France Presse (AFP) has reported.
Jamal Jam Wald Nass, 20, and Ray Cole, 69, were detained when police found "homosexual images" on Mr Cole's phone in Marrakesh last month.
Mr Cole, from Deal, Kent, flew home on Tuesday night after 20 days in jail.
AFP quotes a Moroccan Association of Human Rights official, Omar Arbib, as saying Mr Nass had been freed.
The Agency said Mr Arbib told them that Mr Nass "was released on bail on Wednesday pending his appeal judgement, which will not occur for several weeks".
He said the pair should never have been arrested.
'Denies sexual relations'
"We insist on the respect of individual freedoms, in line with international human rights conventions," he said.
Mr Arbib told AFP that Mr Nass denied having sexual relations with Mr Cole.
Mr Cole was four weeks into a five-week holiday in Morocco when he and Mr Nass were detained by police.
He had gone to the north African country to see Mr Nass for the second time, after developing a friendship on Facebook.
The pair were stopped by police in Marrakesh as they were waiting at a bus stop.
Mr Cole, who was sentenced for four months in jail, is understood to have been granted a conditional release pending an appeal.
Speaking to reporters after arriving at Gatwick Airport, he said he initially thought he was being transferred to another jail, when prison staff talked to him.
"But then they said they were sending me home," he said.
Foreign Office guidelines state that homosexuality is a crime in the north African country.