Kent PCC Ann Barnes in car crash insurance investigation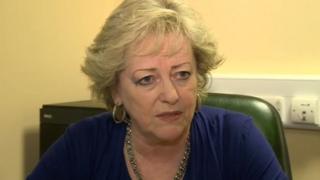 Kent's Police and Crime Commissioner is being investigated over whether she was legally insured to drive when she was involved in a car crash.
The accident, on 16 September involving Ann Barnes's Mercedes, was referred to the Independent Police Complaints Commission (IPCC) by her own office.
Her vehicle collided with another car and hit a tree in Princes Road, Dartford. Nobody was seriously hurt.
The investigation will be overseen by IPCC Commissioner Cindy Butts.
The accident was referred to the police watchdog on 26 September.
"Following an assessment it has been decided that an independent IPCC investigation is necessary to determine whether Ann Barnes may have committed a criminal offence," the commission said in a statement.
A spokeswoman for Mrs Barnes said neither she nor her office would be making any comment.
She said: "It's an IPCC investigation."