Kent County Council expects job losses as part of cuts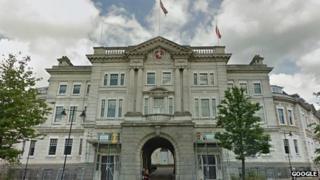 Hundreds of jobs could be cut as Kent County Council aims to save £206m over the next three years.
Residents are being asked which services should be saved or axed in the county in a consultation.
In draft budget plans, the council is looking at saving money in a number of areas including adult social care and street lighting.
Council leader Paul Carter told BBC South East Today between 250 and 400 jobs could be lost.
The authority said it was on track to deliver its 2014 target of saving £81m.
Conservative council leader Paul Carter said: "The financial challenges we face are unprecedented."
In a separate consultation, residents are being asked whether plans to halve the number of community wardens in the county should go ahead.
Kent County Council agreed in February to save £1.28m from its community warden service.
Savings have come through management and administration but the authority wants to reduce the number of wardens from 79 to 40.