Lib Dem conference: 'Judge us on what we have delivered'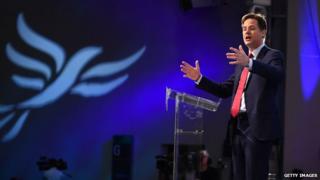 Nick Clegg has delivered his final conference speech before May's General Election - and it could be his final conference speech as Liberal Democrat leader.
The conference in Glasgow has been awash with rumours of people who may replace him as leader, with Tim Farron, the party's president, the apparent favourite with delegates.
Treasury Secretary Danny Alexander has also not ruled himself out and care minister Norman Lamb said he had not "ruled out standing for the leadership" of the party - when Nick Clegg is no longer in the role.
So, with this speech Mr Clegg wanted to leave a legacy.
And as part of his attempt to present his party as distinct and different, the main announcement of his speech was devoted to improving mental health care - not an issue normally addressed on such occasions.
He pledged to introduce new waiting time targets for people with mental health problems in England for the first time.
He also said people with depression should begin "talking therapy" treatments within 18 weeks, from April.
Young people with psychosis for the first time will be seen within 14 days - the same target as cancer patients.
Ultimately, Mr Clegg wants mental health to be treated in the same way as physical ill health - it's an ambitious aim.
It will be funded by reallocating money from other parts of the health budget and is coalition government policy, rather than a Lib Dem aspiration.
But Mr Clegg also pledged to extend the extra money for mental health in the next parliament, if the Lib Dems are in government, to introduce similar targets for conditions such as bipolar disorder and eating disorders.
He told Lib Dem activists the £120m plan is the first step in reforming "Cinderella" mental health services.
Mental health 'in crisis'
That amount is tiny in relation to overall health spending but any increase in funding for mental health will be welcomed - particularly in Kent where services for young people have been particularly stretched.
The Tunbridge Wells MP and government minister, Greg Clark, wrote to the health secretary earlier this year to ask him to investigate mental health treatment for children and teenagers in Kent, which some parents have said is in crisis.
Mr Clark said said some young patients were waiting for four months for assessment and 1,000 people who had been assessed were still waiting for treatment.
The pledges made today may not make an immediate difference to those waiting but to many it will be seen as a step in the right direction.
Mr Clegg also accused the two main parties of playing to people's anxieties and grievances about the modern world.
He said many people were turning to the "politics of blame" for their dissatisfaction - blaming "Europe/Brussels/foreigners/immigrants/the English/the South/professional politicians/Westminster/big business/anybody claiming benefits/ even onshore wind farms".
He also defended his decision to take on Nigel Farage in the TV debates ahead of the European elections, saying he didn't do it because he thought it would be easy.
"[But] because someone has to stand up for the liberal Britain in which we and millions of decent, reasonable people believe - for tolerance, compassion, openness, unity - the values this party holds so dear," he added.
Personal unpopularity
That went down well in the hall and he was cheered loudly.
Mr Clegg knows his party has been punished for their decision to enter into coalition with the Conservatives.
He has also suffered personal unpopularity for reneging on his promise to oppose an increase in tuition fees, apologising again for not being able to keep that pledge.
His message to conference was: "Don't judge the Liberal Democrats on the one thing we didn't deliver in government but on the countless policies we have delivered in government."