'Failings' over care of mentally ill man who killed father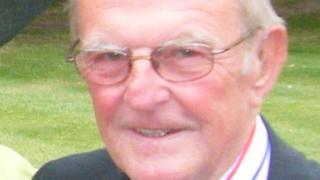 A mentally ill man stabbed his father to death hours after being seen by specialists, a review has found.
Tony Wotton stabbed 71-year-old Terence Wotton to death in their home in Mackenzie Way, Gravesend, in 2011.
The 47-year-old later pleaded guilty to manslaughter on the grounds of diminished responsibility.
A review concluded the mental health trust, Kent and Medway NHS and Social Care Directorate (KMPT), could have done more to reduce the risk he posed.
Wotton, who has paranoid schizophrenia, was sentenced to an indefinite hospital order in June 2012.
'Too optimistic'
A Domestic Homicide Review was published after North West Kent coroner Roger Hatch recorded a narrative verdict of unlawful killing at an inquest into Terence Wotton's death.
It revealed health care specialists ruled against detaining Wotton under the Mental Health Act hours before he killed his father.
Those specialists included a social care worker, an independent GP, and a GP from a local practice.
"The assessment took place on 12th September 2011 and it concluded that he was not detainable," the review said.
"Around 22:30 hours the same day, [Wotton] took a knife from the kitchen and fatally stabbed his father several times."
The review said the assessment team did not appear to consider the escalation of risk of harm he posed and were "too optimistic" that he would comply, despite Wotton previously threatening and attacking his father with sharp objects.
Councillor Mike Hill, chairman of the partnership which carried out the review, said: "We want to take this opportunity to offer our condolences to [his] family and express our deep sorrow and regret that a man should die in such circumstances."
In a statement, KMPT said: "The decision to detain people under the Mental Health Act is one of the most serious that health and social services can take.
"Regardless, the events of three years ago should not have happened and we express again our profound condolences to the family of Mr Wotton."