Paramount 'Disneyland Paris rival' needs investment in public transport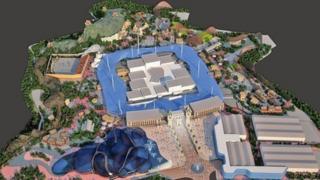 A report into plans for a £2bn theme park that aims to rival Disneyland Paris has said there should be more investment in public transport and greater use of the River Thames.
Developers wish to build a Paramount Pictures theme park on the Swanscombe Peninsula, near Dartford, Kent.
The report was produced by Gravesham Borough Council, after members went on a £15,000 trip to US theme parks.
London Resort Company Holdings hopes to submit a planning application in 2015.
'What can go wrong?'
The council denied the trip to the US in April was so councillors and officers "could go on rides".
John Burden, the Labour leader of Gravesham Borough Council, who was on the trip, said: "We were looking for, not just the good things that will come, but what can go wrong.
"How can we stop other developers coming in that decimate the neighbouring areas of green belt and beyond and how do we make sure we've got proper highway links in?"
The report states: "Investment in public transport and making use of the River Thames to encourage alternatives to the private car and service the development will be important."
It adds: "How do we ensure that the River Thames is itself considered a key asset that has a role to play not only in terms of transport but also as a complementary leisure resource?"