London asylum seekers moved to Folkestone hotel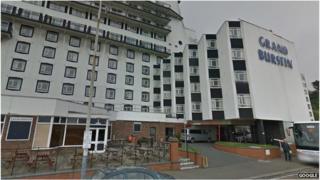 More than 100 asylum seekers have been moved to the Grand Burstin hotel in Folkestone to ease overcrowding at a hotel in London.
It follows complaints about 600 migrants being crammed into the Queen's Hotel in South London.
The Home Office told Damian Collins MP, who represents Folkestone and Hythe, they will be there no longer than two weeks.
He said he had been reassured that it was only a "temporary move".
"I was only notified of this yesterday afternoon," he said.
"Clearly it's a decision the Home Office has made very quickly, to relieve the situation in Croydon.
"My concern is, is this a permanent move or will it be temporary? I've been reassured that this is only a very temporary move."
A spokeswoman for Shepway District Council said: "The Home Office has announced that 130 asylum seekers have been transferred to the Grand Burstin Hotel in Folkestone.
"We have been informed that they will be there for a maximum of two weeks, with 30 of them leaving this morning."