Kent songwriter's search for record lasts four decades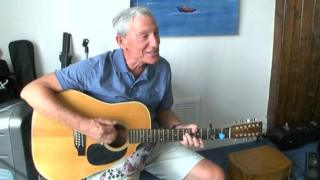 A songwriter has finally managed to listen to the only known vinyl copy of a song he composed 40 years ago.
Simon Block wrote "He's The Guy" in 1974, when he was living in Edenbridge, Kent, and it became the B-side of a single by a band called 100% Proof.
However, the distributor went bust and Mr Block's search for it was fruitless, along with dreams of it becoming a hit.
His son Robin managed to find the record on eBay and bought it for £5.
"It's something that I've waited to hear for 40 years," his father said.
"I've only ever had three songs signed to a publisher, and only one of them has ever been released.
"Any songwriter/composer wants to hear an artist sing his song.
"For the first time in 40 years I've suddenly got a chance to hear my song, which I'd written, sung by a proper professional artist and released on a record."
Robin added: "It was the best £5 I've ever spent."
Simon, who now lives in France, came back to the UK to receive the record from his son last Friday, and to play it to family and friends at a special gathering.
Mark Arthurworrey, former producer on the Seven Sun label, was behind the record's release in June 1975.
He said it was still "a great song".
"I think a good song never dates... and I think that it could be re-recorded or it could be re-released," he said.
"With the right distribution and the right promotion it could be a hit."